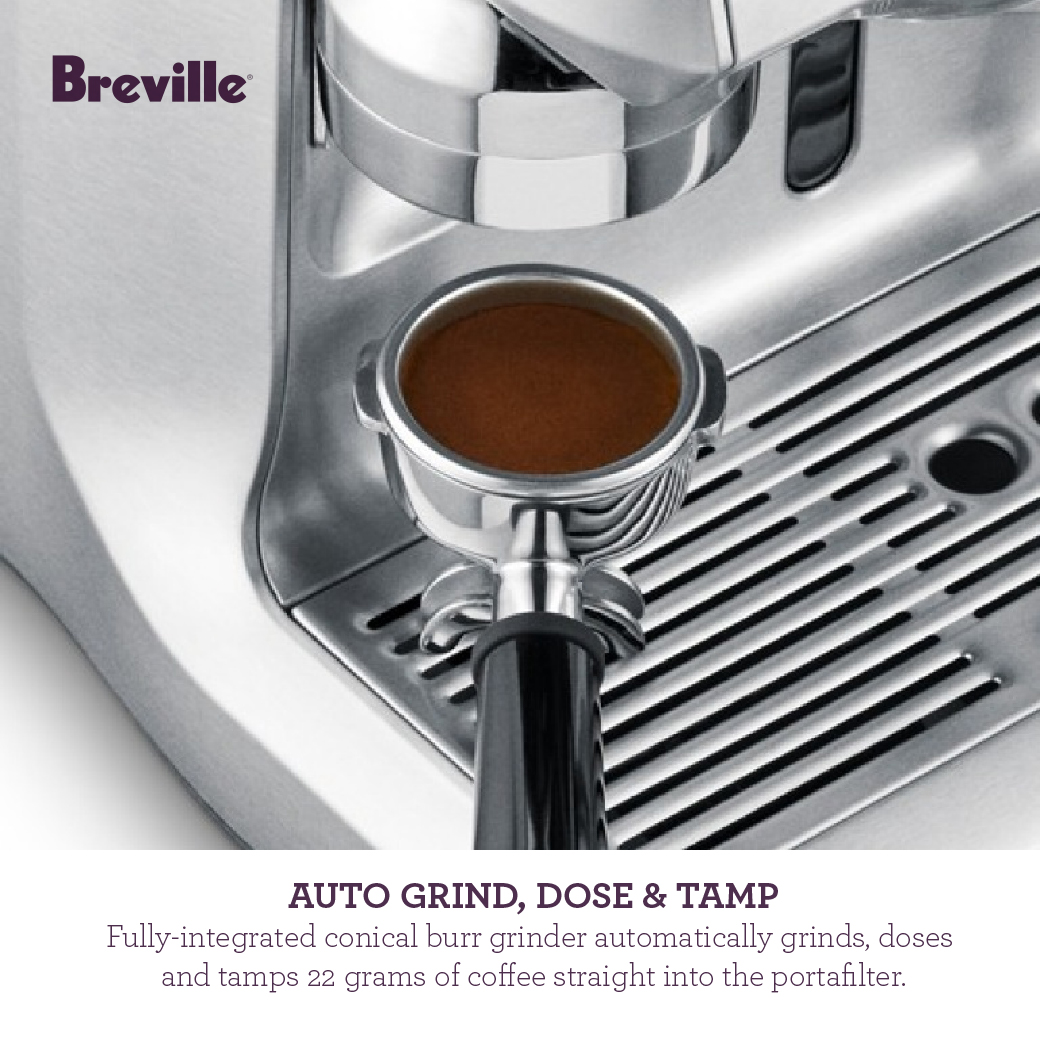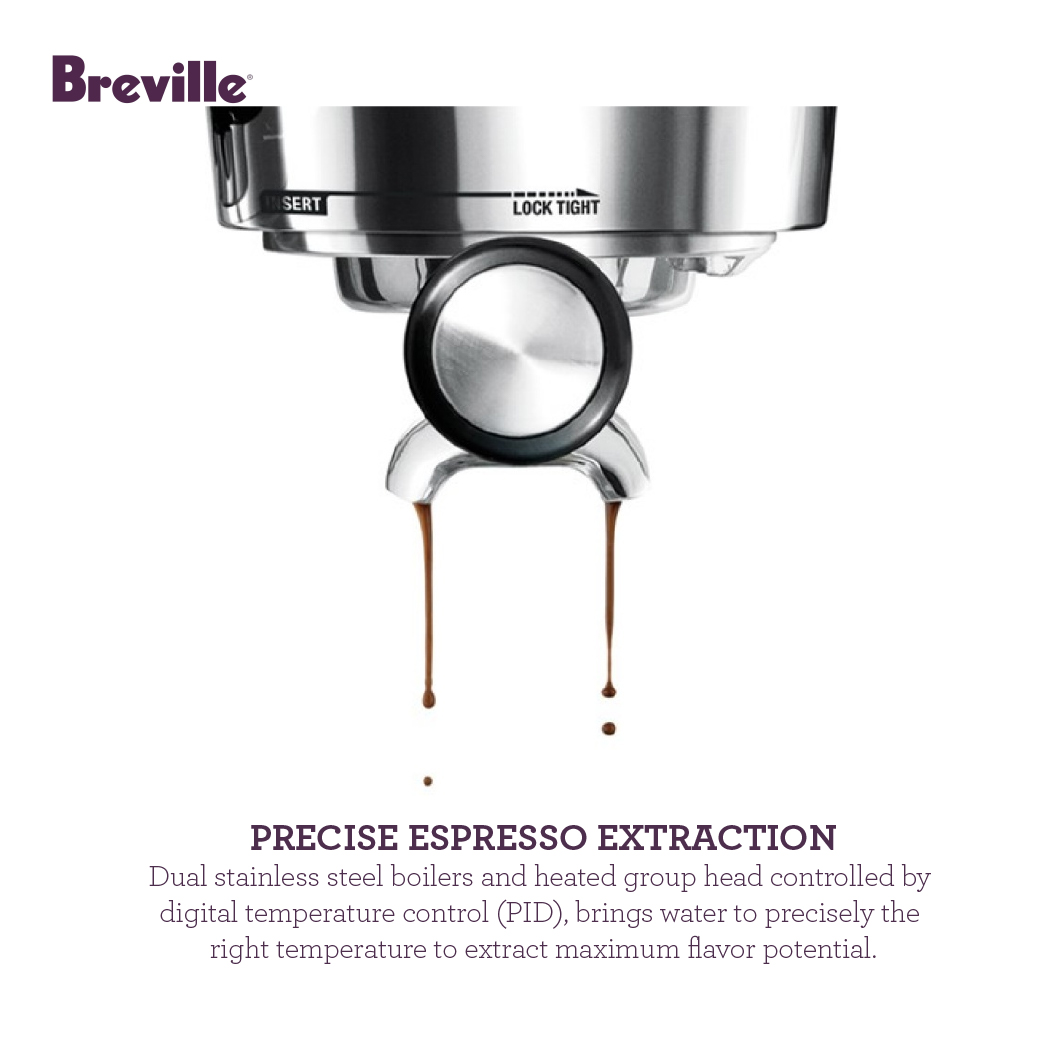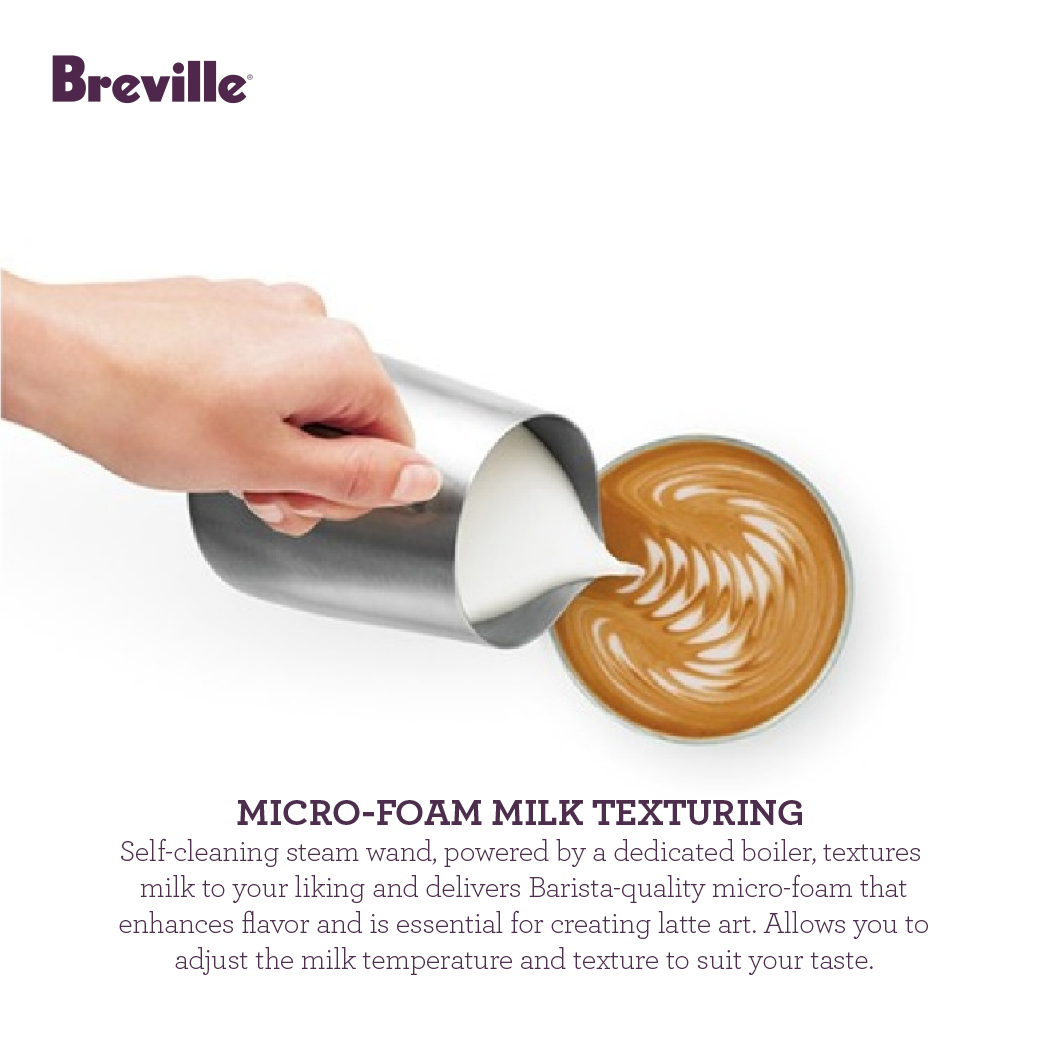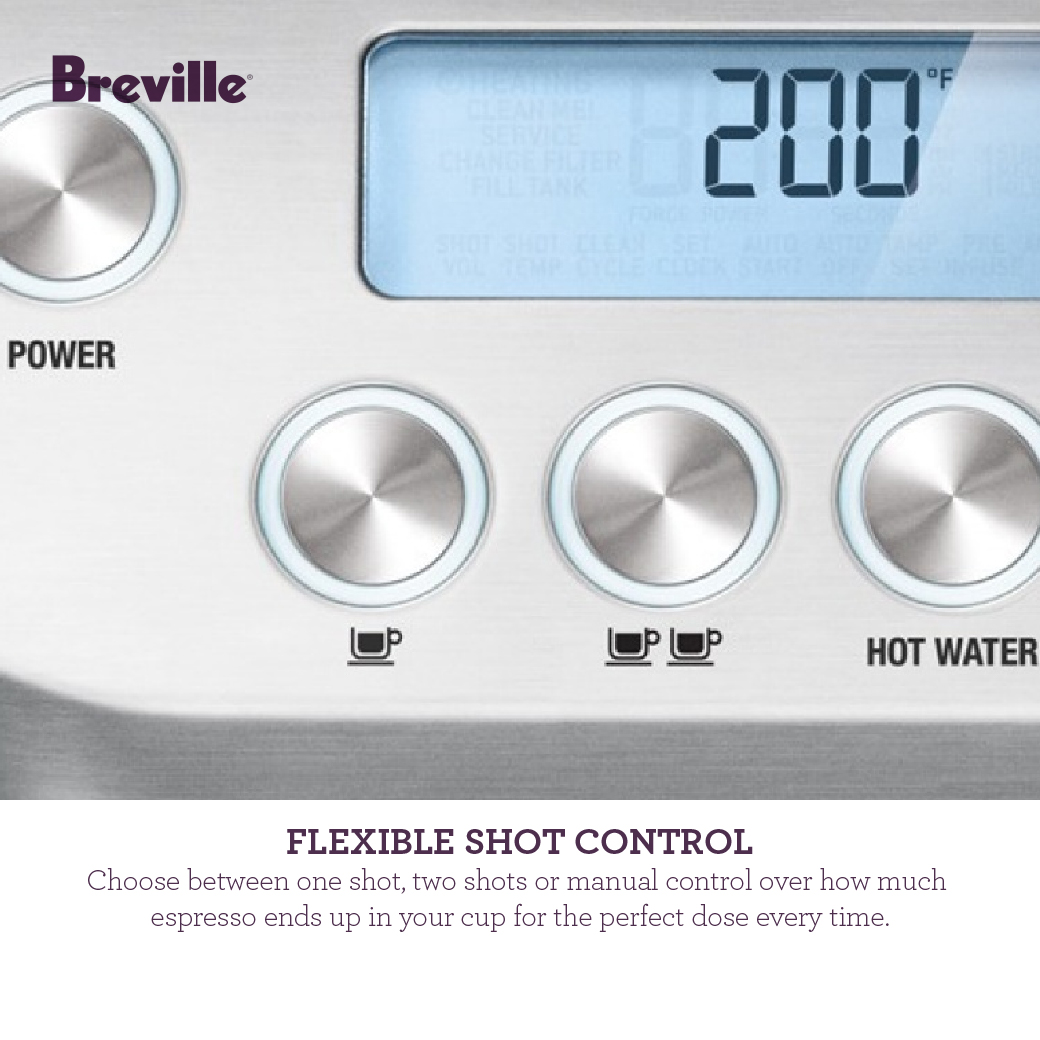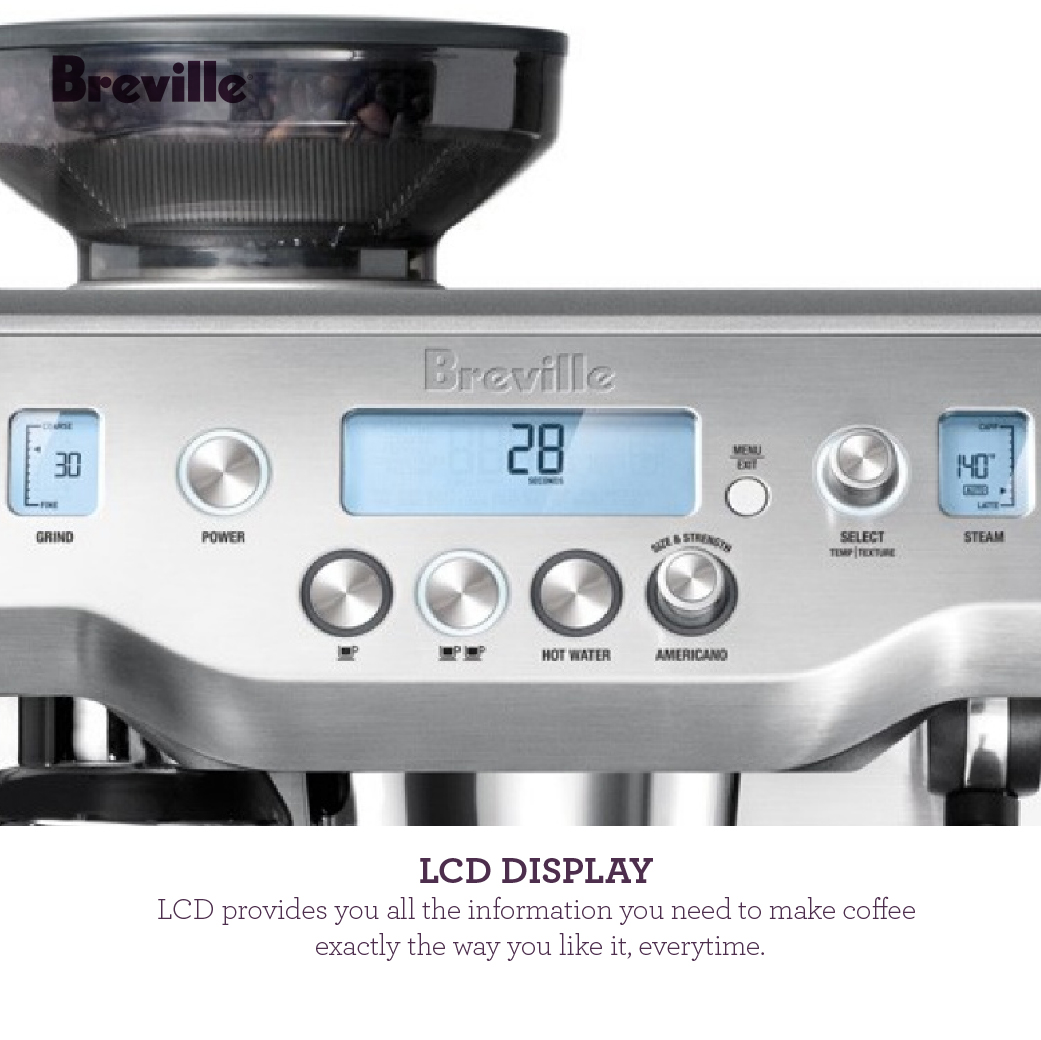 AUTO GRIND, DOSE & TAMPAUTO GRIND, DOSE & TAMP

-Fully-integrated conical burr grinder automatically grinds, doses and tamps 22 grams of coffee straight into the portafilter.


PRECISE ESPRESSO EXTRACTION

-Dual stainless steel boilers and heated group head controlled by digital temperature control (PID), brings water to precisely the right temperature to extract maximum flavor potential.


MICRO-FOAM MILK TEXTURINGSelf

-cleaning steam wand, powered by a dedicated boiler, textures milk to your liking and delivers Barista-quality micro-foam that enhances flavor and is essential for creating latte art. Allows you to adjust the milk temperature and texture to suit your taste.


FLEXIBLE SHOT CONTROL

-Choose between one shot, two shots or manual control over how much espresso ends up in your cup for the perfect dose every time.


LCD DISPLAYLCD

-provides you all the information you need to make coffee exactly the way you like it, everytime.


ONE TOUCH AMERICANO

-The innovative One Touch Americano feature delivers a double espresso, and then separately through a dedicated spout, fills the cup with hot water, the same way as any good commercial machine.


Specifications

Accessories

Included Accessories :

-Mini Grinds Bin.
-58mm Full Stainless Steel Portafilter.
-1 cup & 2 cup Single Wall Filter Baskets.
-16oz Stainless Steel Milk Jug.
-Steam Wand Spare Parts.-Cleaning Kit
-Water Hardness Test Strip.
-Water Filter Holder and Water Filter.
-Cleaning tablets are not included with units.

Capacity


-Bean Hopper Capacity:-1/2 lb.




-Water Tank Capacity




-84 oz.

Construction Materials


-Brushed Stainless Steel Exterior.-Stainless Steel Dual Boiler.

Dimensions (WxDxH)


-14.5" x 14.7" x 17.6"

Over Pressure Valve



-This commercial feature limits the 15 bar Italian pump pressure throughout the extraction, preventing bitter flavors in the shot.

Power

-1800 Watts.



Pre Infusion Function

-Gradually increases water pressure to gently expand grinds for an even extraction.



Settings

-Adjustable Grind Control.




-Programmable Milk Temperature and Texture.-One/Two Shots.-Long Black.




-Hot Water.



Timer

-Espresso shot clock displays shot duration as a guide to extraction consistency.




Triple Heat System




-1. Dedicated steam boiler with integrated Heat Exchange aids thermal stability




-2. Dedicated espresso boiler with Digital PID control delivers precise water temperature.




-3. Heated group head–PID controlled embedded element maintains thermal stability.



Voltage

-110–120 Volts.



Warranty

-1 Year Repair Warranty